A 9to9 Creative Community project devised for GS Artists Swansea by Alexander Duncan.
Alexander Duncan has devised this project for our 9to9 Creative Community, it will run parallel with his phenomenal solo exhibition, ABANDON at GS Artists Swansea.
This project embodies some of the processes within the exhibition – looking at our local coastline and the wider pressing issue of ecology. Building coastal walls feel so futile, as how can we control such a force? This coastal hardening is symptomatic of an end around effect (a solution to a problem that avoids the problem), where we build both literal and metaphorical walls – the ones we build between ourselves and some walls created out of a desperation. Priti Patel's recent, much lambasted brainstorming session to stop migrants reaching the UK involved wave machines/cages/ huge floating walls that are currently being implemented off the coast of Greece.
Some images of the artworks are attached below and include small cast works. Using a cyanotype process, usually found in photographic experiments, these casts are being 'exposed' for the duration of the show, so their colour is determined by the work's position to sunlight.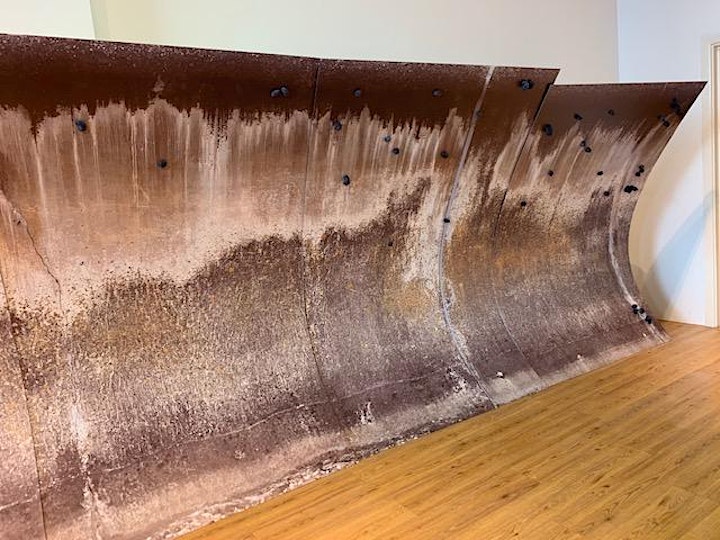 The project Alex has created for you takes its lead from this photographic printing process, which was popular in the Victorian era, when photographic experimentation was at its peak. Architectural blueprints are so-called because of this process.
The photographic plate is created by mixing two chemicals, ferric ammonium citrate and potassium ferricyanide and applying them to a sheet of paper in the dark. An image is produced by placing objects over the coated paper and through exposure to ultraviolet light such as sunlight, there is a resulting cyan blue image, rather like an X-ray. The image is 'fixed' permanently by washing the paper in water and leaving it to dry.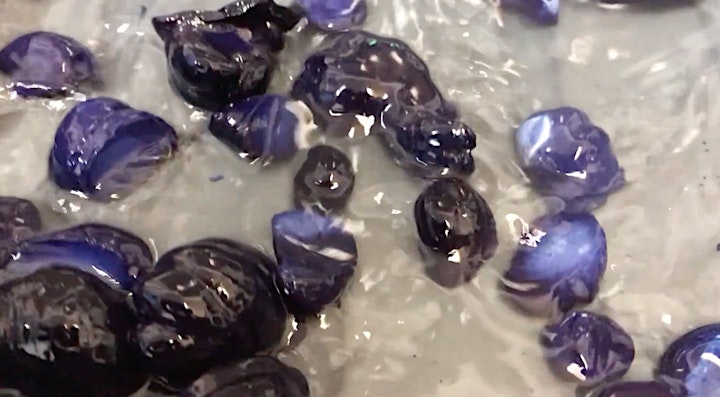 We hope this project will get you, our creative community interacting with nature, gathering source material for this artwork you can create at home or at the gallery in our one off event on Saturday 19th of June. The objects you use can speak of your personal experience of nature, or your surroundings at home.
As we are returning to some form of normality, we have two ticket options for you this time:
ZOOM TICKET – On the day, you will join us via Zoom as usual, where a zoom link will be sent out on the day of the workshop.
We will also send you a pack in the post, created by Alex, of pre-treated photographic paper and descriptions of how to make images with the paper provided using sun-light. There is also a very special 'souvenir fridge magnet' from his exhibition, to inspire you.
(Don't forget to include your address in the booking form so we can send everything out!)
GALLERY TICKET – We also have two very special tickets available for those of you who would like to join us in person at the gallery!!
With each gallery ticket, you get 1 table, for a maximum of 2 people from the same household/bubble and your package will be waiting for you at the gallery.
Please make sure that you book the correct ticket!
If in doubt just get in touch via our email 9to90creativecommunity@gmail.com
Limit of one ticket per person.
Useful Information:
• Materials will be sent out in the post for ZOOM TICKET holders, so when you sign up please fill in the section with your address. If you forget to do this just drop us an email with your address at 9to90creativecommunity@gmail.com
• If you have any questions or queries, again, please get in touch via email. We try to answer everyone within 24 hours, or sooner on the day of the event.
• A zoom link will be sent out 2 hours prior to the talk.
• Make sure you join early so we can address any technical issues you may be having.
• If you are joining us in person, please bring a mask unless exempt and arrive early so we can get you settled in.
Here is some further inspiration from Anna Atkins, who in the 1800's used flora and fauna, including seaweeds, for her prints and made what is known as the worlds first photographic book.
You can find more about here HERE – https://www.nhm.ac.uk/discover/anna-atkins-cyanotypes-the-first-book-of-photographs.html